New week, new skincare trend. Acid peels, 10-step routines, dermarolling – if it feels overwhelming, that's because it is.
Serum, on the other hand, is a skincare staple that has endured. Used before moisturiser, on its own or under foundation, this skin saviour first appeared in 1982 in the form of our very own Advanced Night Repair Serum (originally named Night Repair by Mrs Estée Lauder). Developed to hydrate and help promote skin's overnight renewal, this truly iconic formula is often imitated – but never duplicated.
Layer up or keep it simple?
Single-ingredient serums are everywhere right now, with hyaluronic acid and squalane leading the charge when it comes to hydration. If you're layering single-ingredient serums, you'll need to consider two things: will they work together (some active ingredients can clash on the skin, potentially causing irritation), and will they pill or separate under makeup and SPF?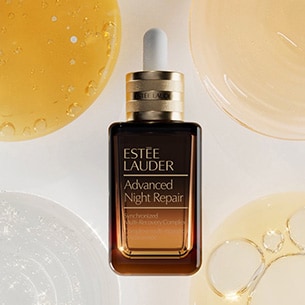 7 serums in 1
If you don't have the time or patience to layer multiple serums (and we wouldn't blame you), choose Advanced Night Repair Serum. Perfect for all ages, skin tones and skin types, it delivers seven skin-renewing actions that tackle dryness and tell-tale signs of ageing, from fine lines to a dull, uneven complexion. No fuss, no drama – just bouncy, plump skin.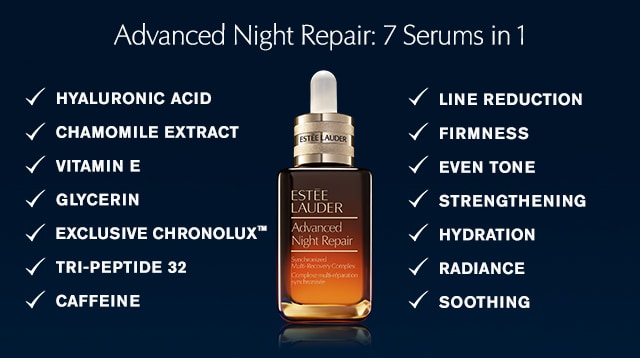 Where does serum fit into my routine?
Like to keep your skincare simple? Don't worry – Advanced Night Repair is made for multitaskers.
1. For an easy, hydrating routine, simply apply Advanced Night Repair Serum AM and PM (for an extra boost of moisture, massage it in while your skin is still damp!). Follow with NEW Eye Supercharged Gel-Creme and your favourite Estée Lauder moisturiser. That's it – simple.
2. Create a smooth, even canvas for makeup by applying Advanced Night Repair as a breathable, oil-free primer.
3. Foundation feeling heavy? Mix it with a few drops of Advanced Night Repair for dewy, lightweight coverage.