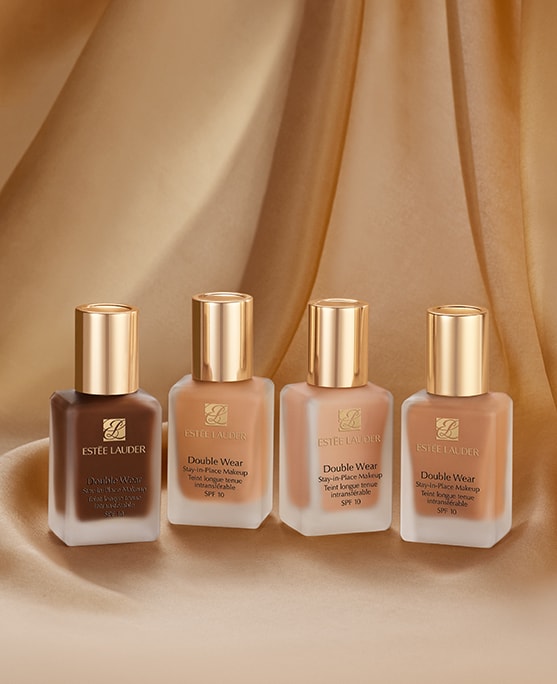 The 90s birthed many iconic beauty moments, from the rise of the supermodel to decade-defining trends like frosted lids and skinny brows. One 90s baby that's stood the test of time is Double Wear Stay-in-Place Makeup – cashmere-matte skin is as chic and flattering as it was when Double Wear launched. We're taking you right back to the start of Double Wear's story. 
How it started...
Debuted in 1997, Double Wear Stay-in-Place Makeup became an instant classic. Its very first face was Estée Lauder spokesmodel Elizabeth Hurley. The epitome of 90s glamour, Hurley was the perfect choice for Estée Lauder's new matte foundation. Advertised as the 'fresh, wear-proof face', Double Wear launched with the same qualities it's loved for today: an oil-free formula, superior long-wear coverage and a soft matte finish.
By 2005, the shade range had expanded and another Estée Lauder spokesmodel, Liya Kebede, became the face of the campaign. As the first Black Estée Lauder spokesmodel, hers was a progressive step at a time when women of colour were often underrepresented in the industry. Kebede's effortless elegance was the perfect complement to Double Wear's velvety finish.     
2006 saw the introduction of Double Wear lip and powder products, with mascara and concealer following soon after. The Double Wear Stay-in-Place makeup line stayed true to the foundation's next-level staying power, with each product designed to look utterly flawless from AM to PM.
How it's going...
Since 2014, Double Wear Stay-in-Place Makeup has won an incredible 36 beauty awards around the globe, with accolades from titles like Vogue, Glamour, Elle and Allure. The innovation continues with skin-loving primers, celebrity-approved Double Wear Stay-in-Place Lip Pencil and heroes like Double Wear Stay-in-Place Flawless Wear Concealer – a natural-looking matte concealer that banishes the appearance of blemishes, dark circles and more.
Today, Double Wear Stay-in-Place Makeup comes in 60 flawless-looking shades in cool, warm and neutral undertones. The original's long-lasting coverage became 24-hour, waterproof coverage, while still being oil-free and beautifully buildable.
Find your shade and tell your story now with our Virtual Try-On Tool. Prefer the personal touch? Book your complimentary in-store Beauty Service.
#MyShadeMyStory
DISCOVER