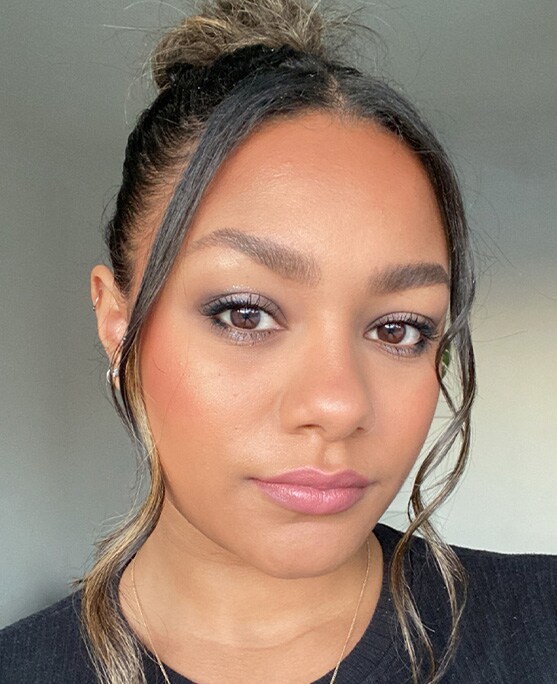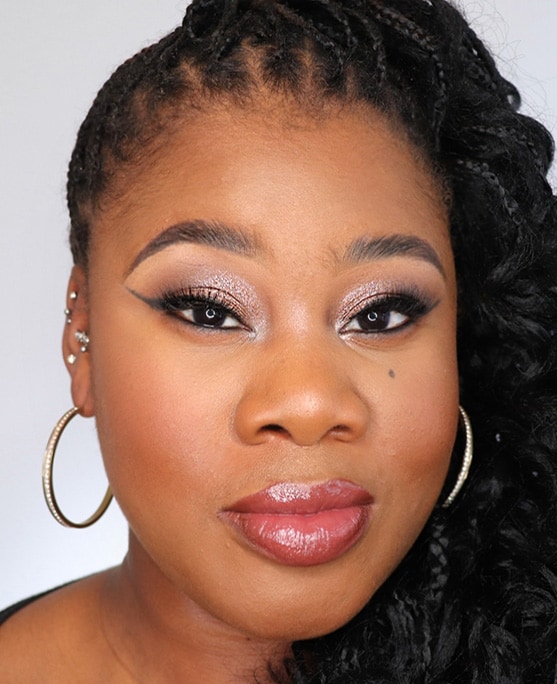 Out-Out Elegance
If you can't go all out on NYE, when can you? Go full glam like Pro Artist Melissa with champagne lids and glass-like gloss.
Start with a little Double Wear concealer to make your shadow last till the new year. Pat it on your lids, working all the way up to your brow bone. Follow with the dark-chocolate shade from Luxe Eyeshadow Quad in Desert Dunes, making sure to blend it out just above your crease. Add a little shimmer over the top to create that gilded glow.
Next up, the star of the show: a super-sharp, budge-proof wing. Opt for a gel liner for long-lasting inkiness – Double Wear 24H Waterproof Gel Eye Pencil is perfect. Classic black will always wow, but if you want to mix it up, choose an unexpected shade like Aubergine or Espresso. Smoke it out with an eyeliner brush.
Gloss is boss, so coat your lips with Pure Color Envy Illuminating Shine Lipstick (we love shade Genius!). This rich, glistening formula is infused with hyaluronic acid and ceramides to soften, smooth and add gorgeous shine. Finish it all off with a spritz of Beautiful Magnolia.
See you on the dancefloor.
A Skindulgent Night In
Staying in? We don't blame you. Make it a night to remember with an indulgent pamper session.
Start with clean, slightly damp skin – straight after a bath or shower is ideal, as your pores will be open.
Splash on a little Micro Essence to soothe and hydrate skin. This lightweight, fresh lotion is like a toner and serum in one and helps the rest of your routine sink in like a dream.
Midnight? Never heard of her. Prep skin for a restful night's beauty sleep with multitasking Advanced Night Repair Serum, packed with hyaluronic acid, vitamin E and peptides. Work it into your skin, taking the time to massage your temples, jawline and forehead.
Using your ring finger, massage Advanced Night Repair Eye Supercharged Gel-Creme ever so gently into your under eyes and lids (remember, the skin here is 40% thinner than the rest of your face, so a light touch is key!).
Layering is essential, especially in winter, so wrap your skin in soothing, silky comfort with Revitalizing Supreme+ Intense Restorative Night Creme. Again, take the opportunity to massage away any tension.
Using a gua sha tool or facial roller? Apply a little extra creme to get that super-smooth glide.
Happy new skin.
However you're celebrating the New Year, we'd like to wish you a wonderful 2023, full of beauty, joy and happiness.