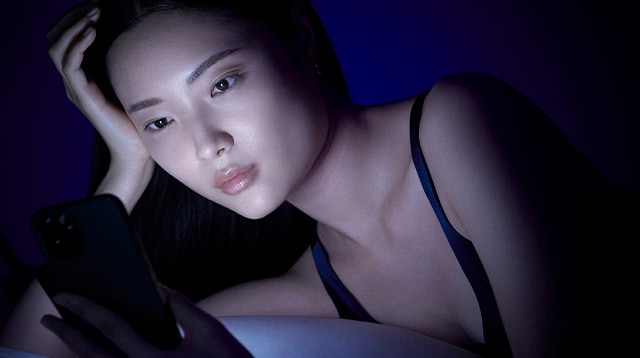 Can't help but check your phone, even late at night? We know the feeling. One more app, one more video… one thing leads to another and the next thing you know, you've been scrolling for way longer than you intended – and you're exhausted.
The trouble is a late-night phone habit can disrupt your skin's night-time renewal. Blue light and lack of sleep (thanks, social media!) can leave your eyes looking tired and puffy – not to mention those tell-tale dark circles.
Thankfully, more rested-looking skin can be achieved with good bedtime boundaries. Taking a moment for skincare self-care, as well as keeping your bedroom cool and dark, can really help your mind switch off. Better sleep and better skin? That's a win-win.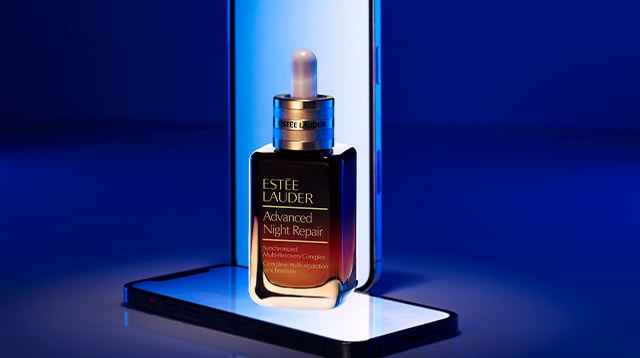 It takes just one minute to start supercharging the look of your skin:
1. Begin by taking a few deep, refreshing breaths – this video is full of helpful tips.
2. Gently massage Advanced Night Repair Serum into your skin, focusing on the jawline, cheek bones and temples for extra relaxation. Full of powerful ingredients like hyaluronic acid and vitamin E, our iconic serum deeply hydrates to help create the optimal conditions for natural skin renewal.
3. Pat NEW Advanced Night Repair Eye Supercharged Gel-Creme onto your lids and under-eyes, using your ring finger to gently massage it into the contours. It works to brighten dark circles and leaves your eyes looking more rested and radiant, fast.
Sweet dreams.