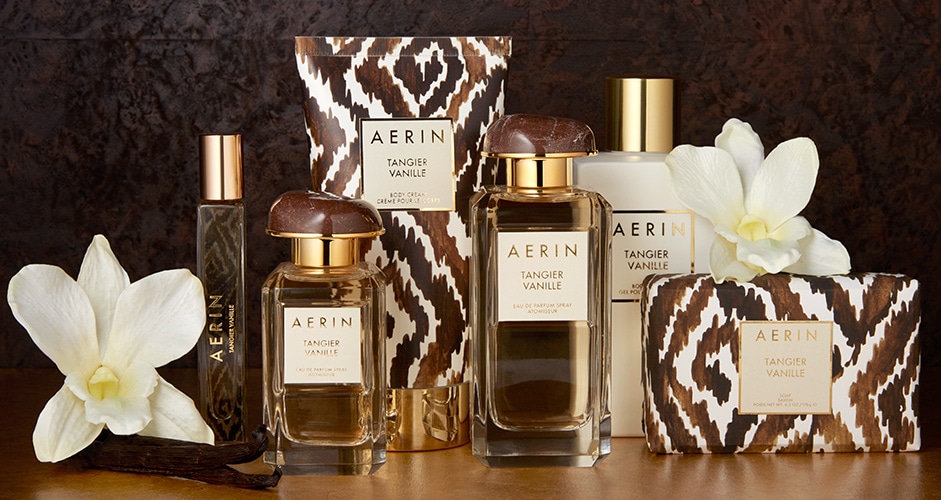 What were your inspirations for creating AERIN Tangier Vanille?
Tangier Vanille was inspired by the mystery and splendor of Tangier in Morocco—a crossroads of many cultures. The scents of spices, like vanilla, cinnamon, and saffron, are everywhere. From the palaces and gardens to the legendary bazaars, there's always something interesting to explore.
What type of woman did you have in mind when creating this fragrance?
This is an everyday fragrance for a woman who loves a spicy, warm scent with a touch of vanilla, bergamot, amber, and musk.
What makes AERIN Tangier Vanille unique?
The storytelling and feeling that a fragrance creates is what makes it unique. Tangier Vanille is not just a fragrance but a complete experience. The fragrance is a secret door that leads you into the mystery and splendor of Morocco.
Can you tell us a little about the ingredients in the fragrance?
Tangier Vanille is a unique combination of notes that remind me of Morocco, especially vanilla and bergamot. The heart of the fragrance showcases Madagascar Vanilla, one of the finest and most expensive vanillas in the world. Its unique and distinct impression offers a twist on the traditional sweet aroma with added floral undertones. It creates a delicate yet full aroma.
Can you tell us a little more about the packaging?
North African tribal prints inspired the packaging for Tangier Vanille. The hand-painted design with shades of chocolate brown and creamy ecru represents the fragrance notes—dark, exotic elements paired with vanilla.