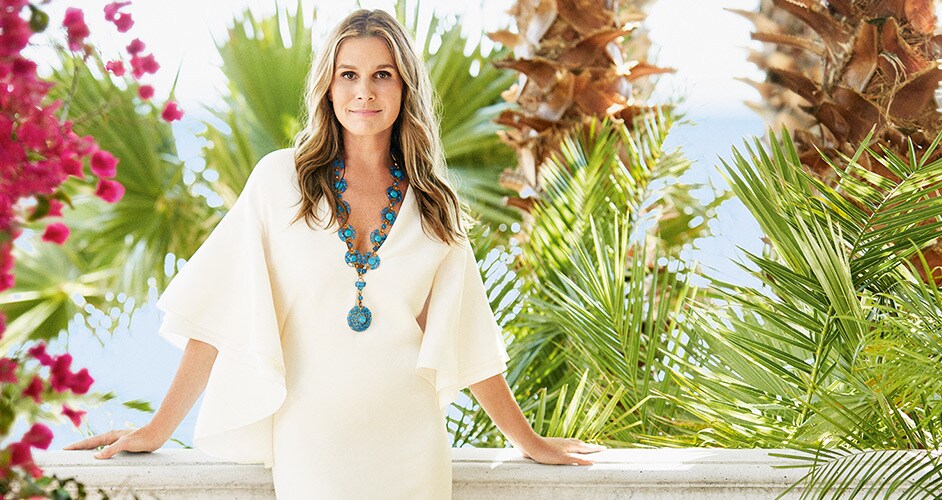 What inspired you to create AERIN Mediterranean Honeysuckle?
One of my earliest memories is the beautiful blue colour of the Mediterranean Sea. Visiting
the area engages all the senses, which creates such vivid, lasting memories. I wanted to infuse
that into this fragrance.
Can you tell us a little about the ingredients in the fragrance?
Mediterranean Honeysuckle is a unique combination of notes that remind me of the Mediterranean,
especially Honeysuckle and Grapefruit. Italian Bergamot, grown in the Mediterranean region, opens
the fragrance with a sophisticated, citrusy glow. Mandarin Oil and Grapefruit give the fragrance a
sparkle and crispness. The Lily of the Valley and Gardenia add femininity, while notes of Honeysuckle
add sweetness.
Do you see this as a holiday vacation scent or for every day?
Mediterranean Honeysuckle is an everyday scent. It is meant to evoke a feeling of escape or memories
of a wonderful vacation. The combination of honeysuckle and grapefruit conjures up a moment sitting
by the sea in the sunshine with a salty ocean breeze blowing through your hair.
Can you tell us a little more about the packaging?
An intricately tiled floor inspired the packaging for Mediterranean Honeysuckle. The beautiful blue
shades of the Mediterranean from the water to the sky inspired the colours of the pattern. Hints of green
represent the lush foliage while a touch of cream brings to mind the colour of the Mediterranean's
beaches.