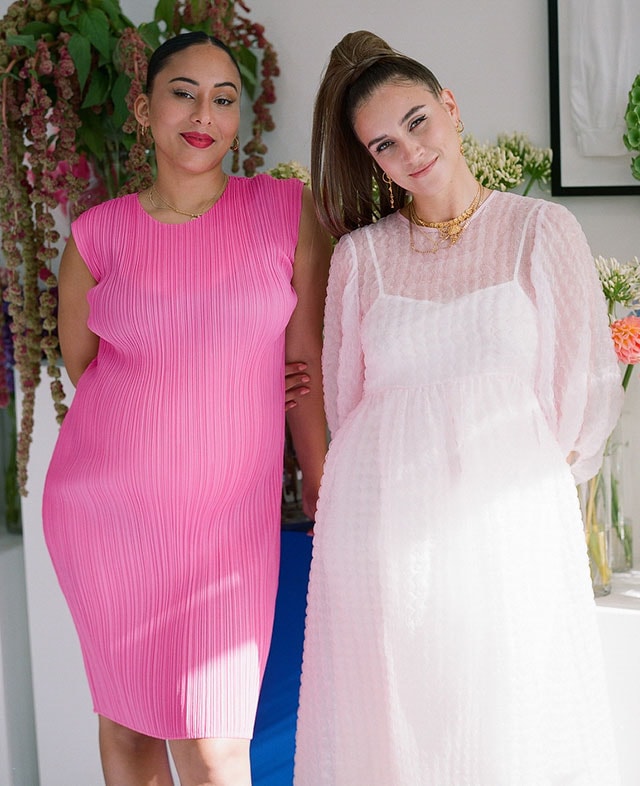 How did SAGE Flowers come about?
We both wanted a career change, having worked in our industries (healthcare and hospitality) since leaving university. After a bit of searching as to what we wanted, we both found flowers; Romy was working for a florist doing project management and Iona was interning at a flower shop. We met each other and decided we wanted to do it for ourselves and to do something in our area, Peckham. We met for coffee one day and SAGE was born!
Where do you draw inspiration from for your unique arrangements?
We have broad inspirations. We met through clubbing and are both very into music. Rave flyers, streetwear, art and architecture all influence us, as does our local area — you can get infinite inspo from Rye Lane shop fronts!
Can you tell us more about the FutureFlowers initiative and why you started it?
Since we began SAGE, we've noticed that the floristry industry is overwhelmingly white, with very few POC florists. After the wave of BLM protests last summer, we decided we were finally in a position and had a big enough platform to do something about it. We started FutureFlowers, a free training programme for POC who wish to get into floristry, teaching practical skills (how to make a bouquet or vase arrangement) as well as theory (how to set up a business, how to promote yourself etc). It's been a huge success — the course places are full until the end of the year and the waitlist is now full too!
As advocates for young female entrepreneurship, what are your top tips for anyone looking to start their own business?
Work HARD. This may seem like an obvious one, but you have to be willing to work really hard to get your business off the ground and make it a success. We both had two jobs up until not that long ago, paying ourselves nothing from SAGE until we were sure we could afford it. We get to the shop from 6am, work all day, go home and do emails and admin late into the night, then do it all again the next day.
What's the best advice you've ever been given?
Probably that you have to spend money to make money. Leveling up doesn't usually happen for free.
Who inspires you and why?
I: I'm inspired by the radical, black feminists of the 70's in both the UK and the US. Olive Morris and Angela Davies are my biggest idols!
R: It would have to be science fiction author Ursula K. Le Guin. She changed the way I look at the world and our relationships with each other.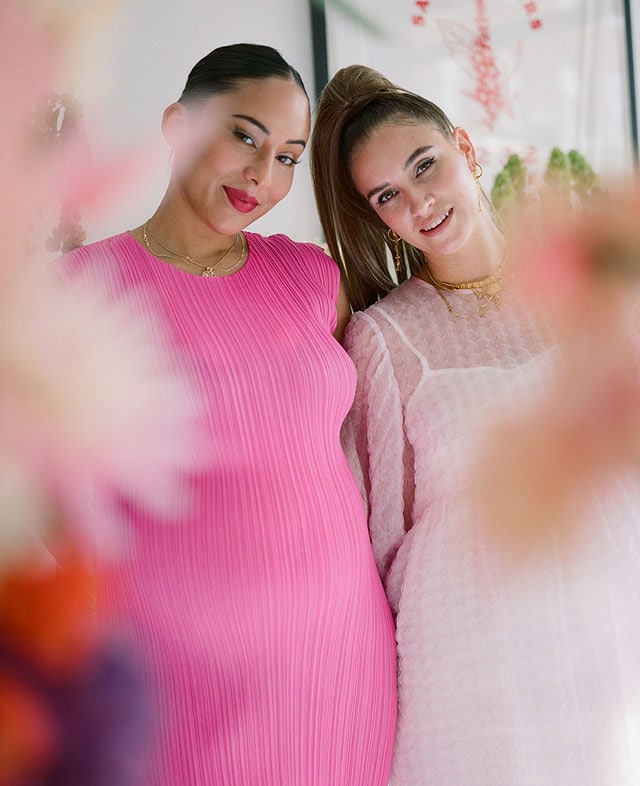 Running a business must be stressful at times, how do you practice self-care in your down time?
I: When open, I love going to the nail shop for a mani pedi on my own, sitting in silence whilst getting my nails done and just relaxing is my favourite bit of 'me' time.
R: Long walks with my fiancé and dog. Baths with a tall, super cold glass of water and some TV.
What's your daily beauty regime?
I: I don't wear makeup, so skincare is very important to me — acids, retinoids and SPF's are all in heavy rotation. I've started wearing the Estée Lauder Advanced Night Repair range and I love it, especially the eye cream!
R: With long days I like to keep it simple — face wash twice a day followed by a rich moisturiser and eye mask. If I'm having breakouts around my period, I'll include a Salicylic Acid solution before my moisturiser.
What beauty product could you not be without?
I: I didn't realise the benefits of a good SPF until my later years. Now I wear an SPF + Vit C cream combo every day to keep my skin protected!
R: I love the Advanced Night Repair serum and eye masks, they're amazing for a quick boost to my routine!
And now, the quick-fire round:
First thing you do when you wake up in the morning:
I: Feed my 3-month-old baby boy.
R: Take my temperature and record how my body (and self) feels that day.
Favourite flower?:
I: It changes season to season, at the moment, mimosa!
R: Gloriosa.
Secret talent?:
I: Operating (relatively) well on next to no sleep. But I think most florists have this as a secret talent!
R: Spreadsheets!
Last played song on your iPhone:
I: Budgie – 4 Your Service.
R: Davina – So Good.
A book or podcast you love:
I: I'm re-reading Half a Yellow Sun by Chimamanda Ngozi Adichie. I never read books twice but I could read this over and over, I love her writing so much.
R: Neuromancer - William Gibson. It's a gritty story of hackers and artificial intelligence against the backdrop of a dystopian Japan. Totally gripping and immersive.