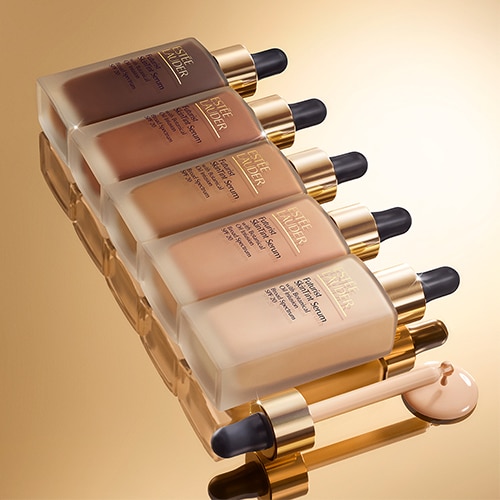 We love our full-coverage foundations as much as the next person (looking at you Double Wear Stay-in-Place Makeup). Sometimes, however, we need a quick complexion-enhancer with none of the fuss of full glam. Enter skin tints. These lightly pigmented formulas can be your answer to an all-day glow and perfected skintone—plus skincare benefits.
Thinking of adding one to your routine? Read on to learn how to apply a skin tint. We're sharing everything you need to know, plus our take on a skin tint vs. foundation.
What is a skin tint?
Think of a skin tint as a "filter" for your skin. One layer of this sheer complexion perfector can even out your skin tone, enhance your natural glow and boost hydration. If you've been searching for face makeup with the most minimal coverage possible and a natural-looking finish, you'll want to get your hands on a skin tint.
Some formulas also contain SPF and skin-loving ingredients that can help protect against UVA/UVB rays and add hydration, even out the look of skintone and provide anti-ageing benefits.
What is the difference between a skin tint and foundation?
Skin tints fall under the foundation umbrella as the base of your face makeup routine. But the two have a few key differences—the biggest being the level of coverage and variety of finishes. Foundation formulas range from light to full coverage and offer different finishes from matte to dewy.
A skin tint provides a light amount of coverage for a glowy, skin-like finish. Most formulas also have a serum-like consistency, while foundations vary from creams to liquids to powders.
Let's not forget about skincare. Some foundation formulas boast skin-enhancing benefits, but a skin tint often doubles as a skincaring formula that helps improve the appearance of your skin.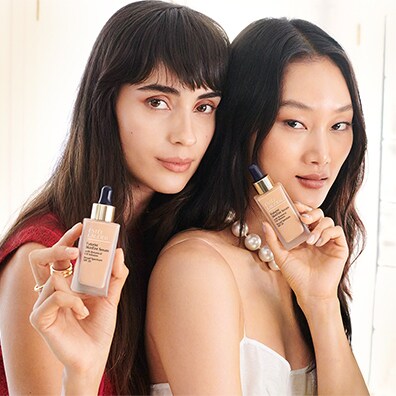 Skin tint vs. foundation—which one is better?
The truth? We could never choose between the two. A traditional foundation is a go-to for a full glam moment or when you want a customizable finish. A skin tint, however, is the best option for low-maintenance, sheer and radiant coverage.
Our skin tint, Futurist SkinTint Serum SPF 20, provides all day colour-true wear. The silky, skincaring formula creates an ultra-natural radiant finish with light coverage. It's sweat- and humidity-resistant. Plus, every drop is infused with skin-essential nutrients that help improve the look and feel of skin.
How to apply a skin tint:
Futurist SkinTint Serum SPF 20 has essential skincare benefits—but prepping your skin with a skincaring primer can only help enhance your final look. Start by applying Futurist Aqua Brilliance™ Watery Glow Primer, which strengthens and hydrates skin while leaving it healthy-looking and radiant. Then, it's time to apply your skin tint.
Starting at the centre of your face and moving outwards, apply skin tint all over your face using your fingers. Let the formula settle into your skin before completing the rest of your makeup routine.
How long does a skin tint last?
It can last anywhere from a few hours to all day, depending on the formula.
Our Futurist SkinTint Serum SPF 20 has 8-hour staying power. Whether you're wearing it to the office or on a night out, you can expect a natural-looking glow that lasts.
Need help deciding what complexion product is right for you? Use our Foundation Finder to discover your perfect match. Or Chat Live with an Estée Expert for 1-on-1 advice.