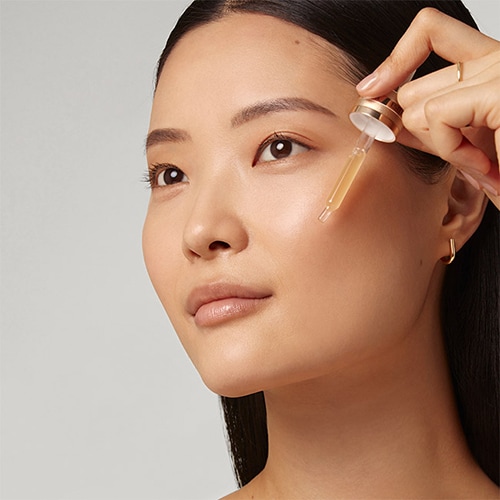 TikTok is a space where millions of creators share makeup and skincare advice, and it can be hard to know what trends are worth trying and which to skip. When dermatologist-backed skincare trends generate buzz, however, it immediately makes us think about our entire beauty routines.
So is the case for "skin cycling", a nighttime skincare routine that's blown up on social media (did we mention that the routine has over 3.5 billion views on TikTok?).
Wondering how this buzzy skincare trend works and how to try it in your own routine? Read on to discover what skin cycling is and how you can curate your own skin cycling routine with Estée Lauder formulas. You'll definitely want to have your Advanced Night Repair Serum on deck.
What is skin cycling?
Skin cycling may sound complicated, but it's actually based around a less-is-more approach that helps you achieve healthy-looking skin and protect your skin's barrier. To start, you'll follow a four-day evening routine with one key type of product designated for each night.
The rotation begins with exfoliation on the first night, followed by retinol on the second night. The third and fourth nights are dedicated to resilience with skin barrier-protecting serums and moisturisers. Then, the cycle repeats.
What are the benefits of skin cycling?
Products like exfoliants and retinol can do a number on the look and feel of your skin when they're overused (think irritation, dryness and dullness). Cycling these products throughout the week can help you avoid over-exfoliation and protect your skin barrier.
Skin cycling routines can also be customized based on skin type or concerns by switching up nights and products.
Want a complete skin cycling routine breakdown? Here's our recommendation for how to curate your own four-day "cycle" with some fan-favourite Estée Lauder skincare picks.
Every Day & Night:
Some products are too essential to skip out on and should be used every day of your routine, including Advanced Night Repair Serum AM and PM. Our ultimate repair serum offers skin the benefits of 7 serums in 1, including line reduction, firmness, even tone, strengthening, hydration, radiance and soothing.
You should also never skip moisturiser. Apply Revitalizing Supreme+ Night Creme each night for a boost of hydration and firmer-feeling skin.
Night 1: Exfoliation
Kick off your cycle with an exfoliating formula to help minimize the look of your pores, buff away dull or rough skin, and prep your face to receive the benefits from the rest of your products throughout the cycle. First, cleanse your face and make sure it's 100 percent dry. Then, apply your chosen exfoliating product.
For this step, one of our favourites is Perfectly Clean Multi-Action Cleansing Gelee/Refiner. This fresh-foaming gel helps purify and exfoliate to unclog pores, leaving skin looking smooth and refined.
Night 2: Retinol
The star of night two, retinol is a common yet powerful form of Vitamin A that can accelerate skin renewal and, over time, help reduce the look of fine lines and wrinkles. Just like night one, cleanse and dry your face completely before using your retinol. Then, apply a retinol formula. We love Perfectionist Pro Rapid Renewal Retinol Treatment.
Nights 3 & 4: Resilience
On nights three and four, focus solely on resilience with your serum and moisturiser. After cleansing, apply Advanced Night Repair Serum and gently smooth it all over your face. Our #1 serum strengthens skin barrier. Follow with Revitalizing Supreme+ Night Creme.
What should your morning routine be during skin cycling?
While a skin cycling routine is all about using different products each night, your morning routine should be more streamlined. Try a consistent morning routine featuring four simple products: cleanser, Vitamin C Serum, moisturiser and SPF.
Begin your routine with a cleanser like Perfectly Clean Multi-Action Creme Cleanser, followed by a Vitamin C serum like Perfectionist Pro Rapid Brightening Treatment. Next, layer on a daytime moisturiser like Revitalizing Supreme+ Youth Power Creme. Wait for your moisturiser to fully absorb into your skin before applying a high-level SPF like Perfectionist Pro Aqua UV Gel SPF 50.