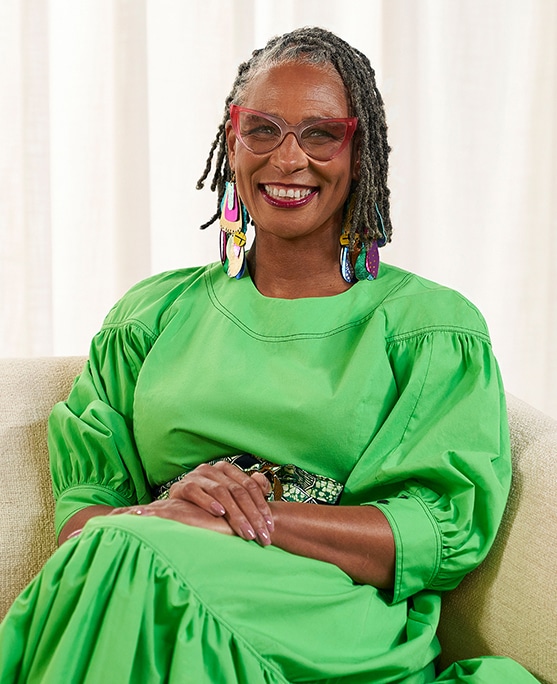 What does it feel like to experience menopause, anxiety and depression, all at the same time? Karen Arthur, speaker and host of the podcast Menopause Whilst Black, shares her story.
Every menopause experience is different…
… and it will be different across cultures, as well. Research shows that Black women can experience menopause younger than our white counterparts, and sometimes up to two years earlier. They can also experience hot flushes more intensely. It's important that every story is represented. That's why I speak up, and that's why my podcast, Menopause Whilst Black, exists.
In the back of my mind, I knew I was going through menopause.
I was coming up to a year where I hadn't had a period at all. Intellectually, I knew what was going on. However, because my focus was my failing mental health (and how that was affecting my career), I didn't put two and two together. When I talk about my menopause experience, I conveniently forget that I suffered from anxiety and depression for three years and I had to leave my job.
I've always been someone who would move first thing in the morning.
I often get out my yoga mat and do five or 10 minutes. One morning, I thought my boiler was broken. It was February, my windows were wide open, and it was freezing outside. I went into downward-facing dog. Suddenly, this whoosh of heat came over my face. I realised it wasn't my boiler that was broken: I was the broken thermostat.
Menopause also helped me to find my voice.
In order to navigate my wellbeing, I had to turn the gaze upon myself. I took myself into therapy, found out what diet suited me, and identified what my triggers and boundaries were – all so I could come back stronger.
Menopause is an opportunity to really get a grip on what suits us, whether that's relationships, friendships, food, or lifestyle.
Imagine how powerful women would be if we knew ourselves at 20, instead of waiting till we were menopausal.
I don't want anybody to experience menopause the way that I did.
That's why I talk about it constantly to anybody who will listen. It's important that everybody knows what might affect them so we can start to look at what will best help us through our transition.
I urge everybody, particularly Black women, to look after themselves much earlier.
Listen to your body, look at your diet and look at your lifestyle. Start to do your own research and advocate for yourself when you go to the doctor. There are lots of different things you can do to help, from upping your exercise game to getting enough sleep.
Menopause isn't a death sentence.
It can be the most liberating time of your life, but it's important that you understand the challenges early on so that, when you do start to go through menopause, it will be a much easier ride.