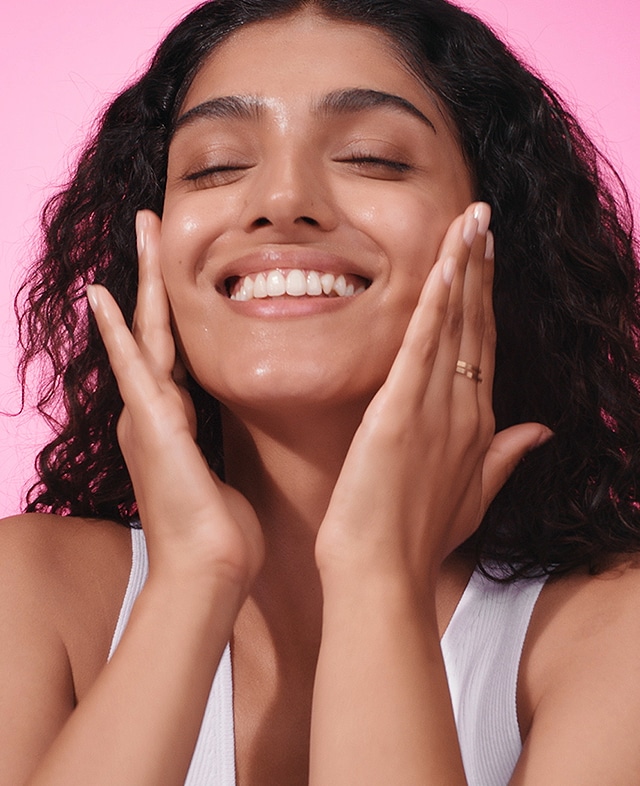 Skin feeling a little lacklustre? We've all been there. If you have unwanted oiliness, irritation or redness, we've got good news for you: showing your skin some love is as easy as 1, 2, 3 with our Nutritious daily routine.
How To Care For Oily, Irritated Skin
When skin feels 'grumpy', it'll tell you. You might see redness, excess shine or larger-looking pores, or perhaps it feels tight and dehydrated. Our NEW oil-free Nutritious collection is carefully designed to rebalance the look of dull, irritated skin, leaving it feeling soft, hydrated and soothed...
How To Get Glowing Skin
Estée Lauder's NEW Nutritious collection is made up of 92%+ naturally derived formulas, with ingredients like sweet kelp, red algae ferment and coconut water ferment to help skin flaunt its natural vibrancy. Pores look minimised, and skin looks healthier and feels… well, blissful.
Your New Glowing Skin Routine
For fresh, balanced-looking skin, cleanse your face morning and night with Nutritious 2-in-1 Foam Cleanser. Next, saturate your skin with Nutritious Radiant Essence Lotion. This cushioning formula provides nutrients to help awaken, balance and calm the look of skin.
Love light-as-air hydration? Reach for Nutritious Airy Lotion. This radiance-restoring formula boosts moisture and helps reduce the look of redness. Love a multitasker? Massage in Nutritious Melting Soft Creme/Mask. This 2-in-1 creme melts into skin to provide soothing hydration, plus it can be used once a week as a leave-on mask to refresh skin and add radiance.
Want more skincare tips? Watch the videos below to
learn our Happy Skin Hacks, featuring Nutritious skincare.