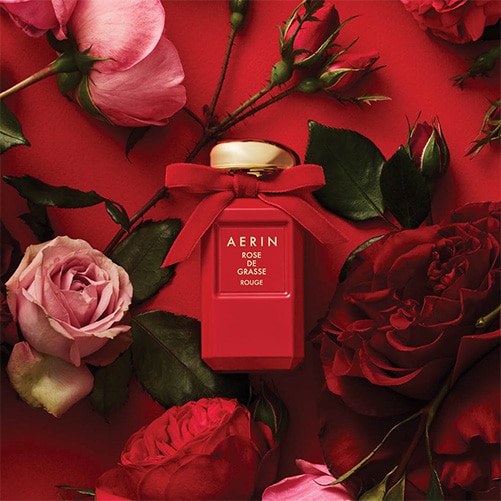 No matter the season, we never tire of the classic warmth and beauty of the red rose. If you're searching for a timeless red rose-inspired scent to add to your fragrance wardrobe, you'll love New Rose de Grasse Rouge.
This limited edition Eau de Parfum celebrates the classic beauty of the red rose in full bloom. Rose de Grasse Rouge was inspired by the perfect red rose, just picked from the garden.
Rose de Grasse Rouge captures the depth and allure of Red Rose notes blended with the scent of dewy Rose Water and warm Honeycomb, for a sensual and bold fragrance.
The Rouge bottle, dipped in cherry red, is adorned with a gold-hued cap and a rich velvet ribbon, symbolizing the beauty of Aerin's favourite flower.
"Rose de Grasse Rouge is a true celebration of the rose, which is
a constant source of inspiration for me. Not just because I love the way
roses smell, but because of their meaning. Roses symbolise friendship,
generosity and love, all of which are very important to me."