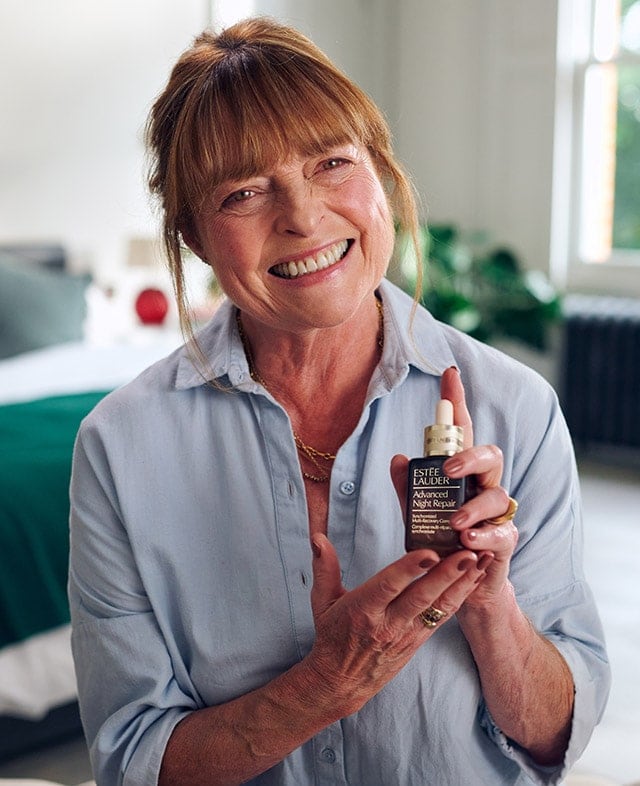 What does it mean to you to be part of this skincare campaign with your daughter?
It's an absolute treat. Sophie and I have a continuing conversation about makeup, skincare, fashion and style. It's great to be on the same page today, talking about a product that we both really enjoy using. So, it's a bonus for us actually, it's lovely!
What was the first beauty product you purchased from Estée Lauder and what memories does it bring?
It was Youth Dew. It was the scent, I thought it was immensely sophisticated. I'd moved on from a scent that everyone in the 70s smelt like. It was very cloying on everyone and very, very memorable but in the wrong way.

I decided I wanted to branch out on my own and be my own perfume. Going to the counter always made me feel really grown up, like I had purchasing power and somebody was going to engage with me about what I was buying. I remember trying it and thinking, that's me, that is me. The nice thing about it is that it's one of those scents that when someone smells it, they compliment you and then you know that if they ever smell it again somewhere else, it'll remind them of a really lovely moment.
Talk us through your daily beauty routine.
I'm pretty good at it, I'm going to give myself brownie points here because I always take my makeup off at night and I have passed that onto my daughters. Without sounding too twee, what I like about having a regular beauty routine, morning and evening, is that it's a way of saying hello in the morning and really connecting. I've got to an age now where I've seen this face go through a few things but I still want to know what I look like, I don't want to not recognise myself and I think the best way is to be full square on in the morning.

So, I wash off my cleanser and use plenty of moisturiser and then in the evening, I spend just a little bit longer and that's where the massaging comes in. That's why it's so lovely using Advanced Night Repair at night, because it encourages that commune with your face to just say 'that was the day whatever's happened in it, we're taking that off'. Some of it will be nice, some of it not so nice but it's a moment and I think it's really important.

We live such busy lives, even if we're in a self-imposed busy. Those little moments readying for and saying goodbye to the day are really important.
How do you unwind and switch off in the evenings?
It depends on what I'm doing. At the moment, I'm writing fiction, so reading fiction is a little bit off-limits but I love reading non-fiction and biographies — I've got one of those on the go at the moment. Or, putting on the TV, I cannot get over the joy that in the olden days if you wanted to watch a programme that you've missed, you either had to do a clunky video record or you could never see it again and now everything is at your fingertips! The 21st century has a lot of things to be grateful for and that sort of technology is brilliant.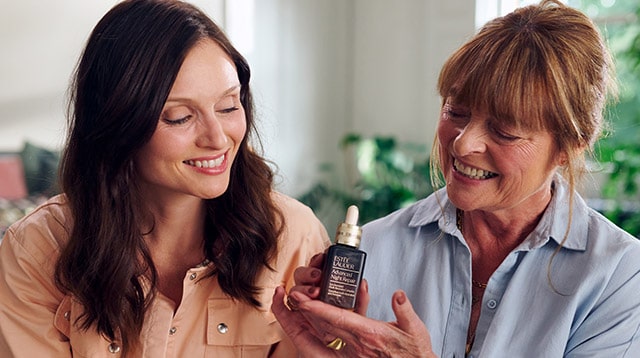 What's the best beauty tip you learnt from your Mum?
Smile. It makes a huge difference. It's when I see myself in the morning, however I'm feeling, I try and smile because that is my face waking up. That and applying pencil under and over the eye line.
What's the best tip you've handed down?
Take off your make up. I think it's just kinder to you and to the pillowcase! I know sometimes it is the last thing you feel like doing and if it's gone past the witching hour, you just think, oh really? It's a bit like, if I have a party or people for dinner, I like to do the washing up before I go to bed because however awful that feels, I would rather come down to a clean kitchen in the morning. So maybe I've sort of taken that over into my skincare too. This is the human equivalent of the clean kitchen.
What do you love about using the Advanced Night Repair serum?
Well, it says it's a complex on the bottle, but it's really easy — it properly absorbs and responds. I think some skincare feels imposed, but there's something very organic about the relationship of it with your skin. There's nothing complicated about it, it's just a really lovely product. It disappears and then it reappears as a nicer you. What's not to love?
Any dreams for the rest of this year or looking ahead to next year?
I better finish this book. I think that's my dream. Like the rest of the country probably, I'd like to go abroad but that might have to wait. For the rest of it, I think as long as we keep holding hands, when we're allowed to, that's a very nice thing to do. We've all missed the easy physicality of just reaching out for other people and although we've been very good at keeping abreast of what's happening and supporting each other through it, there's nothing that can beat just being together.
And now, the quick-fire round:
First thing you do when you wake up in the morning:
I put the radio on so I can confirm what's happening in the world.
Snack that's always in your fridge:
At the moment, sun-dried tomatoes.
Secret talent:
I can harmonise to anything I hear. I never get asked to use it but I can.
Early bird or night owl:
Probably early bird. But if I am a night owl, I pressure myself to keep going longer than everybody else!
Last song played:
It was Maisie Peters actually. A really sweet song about being rooted in the place that you grew up in even when you leave it. Maisie is 21 so an old head on young shoulders but it's really profound.
Favourite food to order for takeout:
I love food so much, that's really hard. Probably Vietnamese at the moment. I love the way the spices are added at the last minute so you get that real hit and crunchy stuff and sweet stuff and spicy stuff. I have never met a food I don't like. So that's a hard question for me.