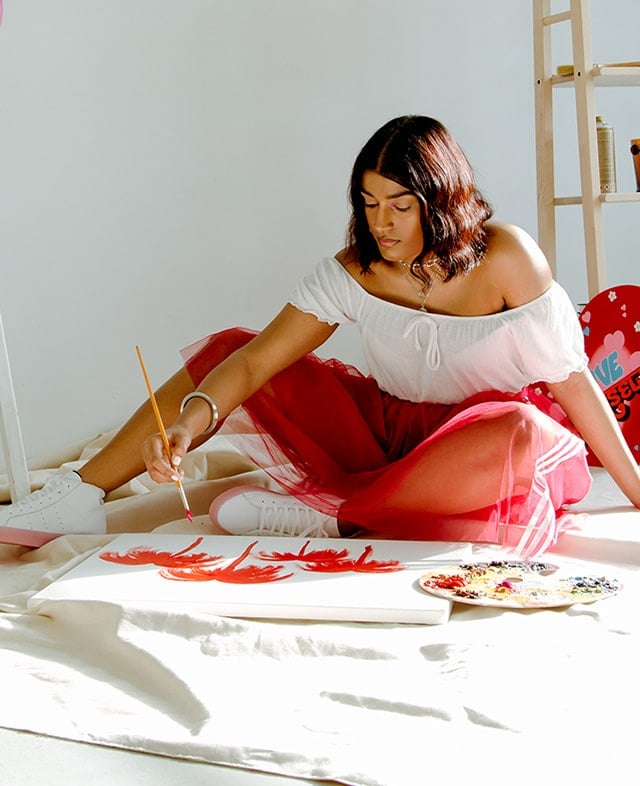 Illustrator Jasmin Kaur Sehra is passionate about reflecting identity, empowerment, self-love and positivity in her artwork. She has amalgamated her Punjabi heritage, love of 80's graphics and patterns, bold typography reminiscent of vintage film posters or cassette tapes and love for nature to form her artistic storytelling through illustration, typography and design. We caught up with her to quiz her on her career, and what confidence and positivity mean to her.

How did you get into illustration? Was it always your passion?
Creativity has always been my passion. Over the years I've experimented with it in so many different forms. I got into illustration more so during the last two years of university where I did a lot of typography, illustration and portrait painting. Years later everything has developed quite naturally to what I'm currently doing now.
Where do you draw your inspiration from?
A lot of my inspiration comes from my day to day, how I feel, vintage graphics on clothes, posters and cassette tapes. But also, nature — I love nature so much. Flowers and plants are my favourite and are so inspiring. The design, colours and caring for them, has taught me a lot about nurturing something consistently and being patient for it to grow well. A lot I put into practice within my work and life.
What feelings do you want to evoke in your artwork?
I always want my artwork to evoke positivity. My typography pieces especially are creations developed from my journal: just thoughts and writings I've created into an art piece. I started creating typography pieces as a kind of therapy after having been in therapy for mental health and I found this form of expression and creativity was a natural way for me to zone out into a space that I felt comfortable in. Being myself has opened up so many doors and different avenues of creativity, and it's so nice to see a community of people sharing and resonating with my work too. Last year I started an eyeliner series. I love creating fun looks with my artwork too. A sharp winged liner is my everyday go-to so experimenting with my makeup staple has been really cool.
I always want my artwork to evoke positivity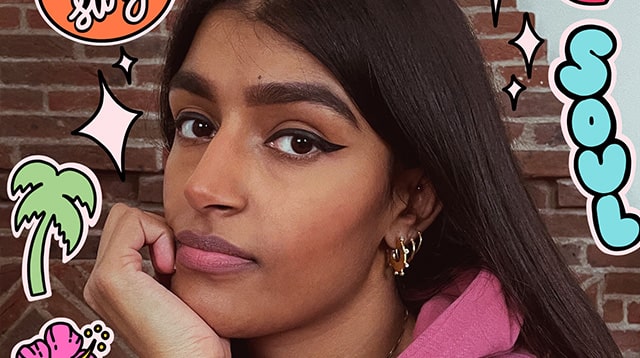 What has been a highlight of your career so far?
I have so many highlights, every project has been incredible. I think being able to do what I love for a living has been the biggest highlight ever!
What makes you feel confident?
Being comfortable in my skin, my mind and soul. It took years for me to be comfortable with who I am in so many ways and I can proudly say that I'm currently in a great space mentally as well as physically. We're all unique and our differences are beautiful.
How do you stay positive during difficult times?
Having close family and friends has really helped with this and being able to be transparent with how I'm feeling. I've also found being accepting of certain struggles helps me find ways to better deal with them in the best way possible.
What are your favourite forms of self-care?
Though I do love getting dressed up, wearing my favourite clothes and putting on makeup to feel good, every week I always make sure I take time to just be. I also love listening to music, steaming my face, putting on a face mask, not to mention a good gua sha session! Throughout the week, I hit the gym and fuel my body with nourishing food. Last year's lockdown made my relationship with how I take care of my body change for the better. I also love going outside―the outdoors is so important to me.
How did you feel when asked to create a custom Double Wear design?
I've always wanted to diversify and move into the beauty industry so collaborating and designing a limited-edition bottle with Estée Lauder was so exciting to me.
Where did you get your inspiration from for the Double Wear illustration?
My inspiration came from warm sunny summer days and my love for nature and the outdoors. It's a design to uplift through typographic statements and fun illustrations, reminders of love, positivity and good vibes!
What does beauty mean to you?
It's having the confidence to be yourself in your truest light, imperfections and all, not just in a physical sense but mentally too. It's nature and the beauty of allowing things to flow in their natural state, and having the love within to take care of yourself inside and out.
And now for the quick fire round...
First thing you do when you wake up in the morning?
Stretching and going to the gym.
Favourite Artist?
Currently it would have to be designer Melody Ehsani.
Secret talent?
I do love to sing!
Last played song on your iPhone?
Nicole Bus - You.
A book or podcast you love?
Mind Platter - Najwa Zebian.