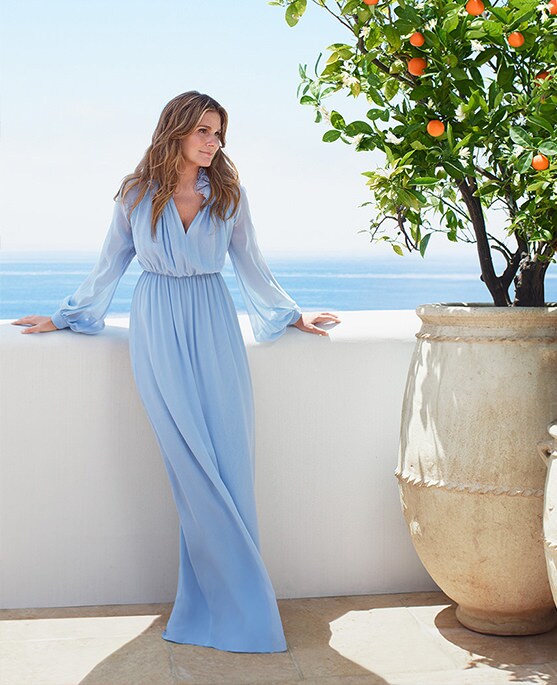 "I'm inspired by the sun, water, sky and beach. It is fascinating how these elements can provide such unique and different experiences throughout the world," Aerin Lauder explains of the influences for her new fragrance launch. "Aegea Blossom is my latest journey and expression of those elements—it captures the essence of the Mediterranean ocean and coastal life by way of sailing on the Aegean Sea."
With each fragrance collection of her brand, Aerin introduces a new experience inspired by her life and travels. The latest, Aegea Blossom is a direct link to her love for the Mediterranean and for sailing. "It is the ultimate relaxing escape—the slower pace, and simple pleasures like dropping anchor to explore an interesting little port along the way, are a perfect antidote to a busy life," she says.
Bright yet warm, the scent is a vibrant, luminous floral, a combination of mandarin, orange flower and sultry musk. "It makes me feel carefree, vibrant, relaxed and
sun-kissed."
Here, Aerin sits down with Estée Stories to discuss her creative process, her personal connection to the scent and her favorite fragrance application technique.
Tell us about your inspirations for creating AERIN Aegea Blossom?
The vivid blue of the Aegean Sea is like no blue on earth. Sun-drenched, sparkling and caressed by the scent of orange flowers from the shores of Greece, Italy and Sicily. To sail its waters is to feel a release of pure joy and freedom; it is an experience like no other. AERIN Aegea Blossom is a voyage of the senses inspired by the blue sea, cool breezes and pure light of this dream world.
How does Aegea Blossom fit into the AERIN Fragrance Collection?
The AERIN Fragrance Collection is the most personal and intimate expression of me. Each fragrance has a unique and distinctive composition that creates a special signature to capture the wonderful memories of my travel, my experiences and
my life.
With each location comes a new experience, and each experience is a new sensorial impression: Hibiscus Palm, Mediterranean Honeysuckle and now Aegea Blossom. Each scent allows me to revisit the experiences I love in a unique and intriguing way through fragrance expression.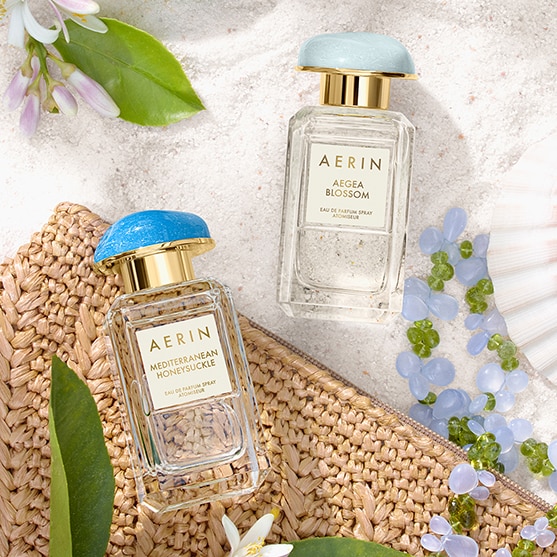 I'm inspired by the sun, water, sky and beach. It is fascinating how these elements can provide such unique and different experiences throughout the world
What type of woman or occasion did you have in mind when creating this fragrance?
Aegea Blossom is a resort fragrance—perfect for the woman going on vacation or looking to go on a journey. I love this fragrance for warmer days and ocean vacations. I can also see this as the perfect honeymoon fragrance.
Can you tell us a little about the unique ingredients in the fragrance?
AERIN Aegea Blossom is a distinctive combination of Orange Flower and Musk. Its olfactive classification is a luminous floral.
Can you share your most memorable sea vacation or experience?
This past summer I traveled to Ibiza with my family for a few weeks. My good friend Daniel Romualdez first introduced me to the magic of the island ten years ago. It is like nowhere I had ever visited before: the energy, the food and the music always make it feel special. During our trip, we spent several days on Daniel's beautiful wooden sailboat built in 1948, the Agenta. It was pure magic.
What are your sailing essentials?
A sunhat and sunglasses with good coverage are a must—I like the retro feel of Linda Farrow's oversized square frame sunglasses paired with Eugenia Kim's Bunny Sun Day Straw Sunhat—it's classic.
I always bring a casual clutch for on-shore visits, such as KAYU's Pina Envelope Clutch or the AERIN Large Natural Heart Raffia Zip Pouch. A pop-over is an easy way to dress up your look for dinner; Love Shack Fancy's popover crocheted lace-paneled mini dress is ideal.
What are your sailing beauty essentials?
My sailing beauty bag always includes a good brush to deal with wind-swept hair—the AERIN Large Ivory Hairbrush is my favorite. A high SPF sunscreen to protect my skin. An AERIN Fragrance Body Wash to thoroughly cleanse sunscreen-covered, salty skin, while imparting a light fragrance. And I pack a rich body moisturizer—I love the new Aegea Blossom body cream—to replenish skin that has been exposed to the elements all day. I also always pack my Rose Lip Conditioner.
If you could describe Aegea Blossom as a sound, what would it be?
A sound: waves crashing, wind on sails.
Taste: sea salt. Smell: orange flower.
Sight: reflective blue water.
Texture: raffia or straw.