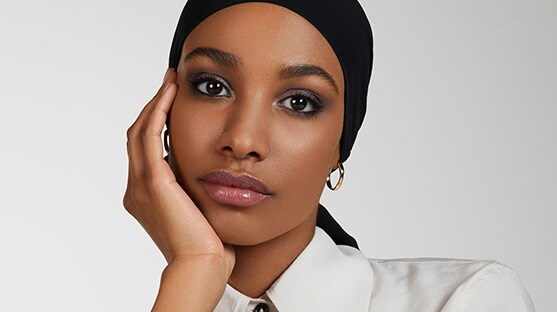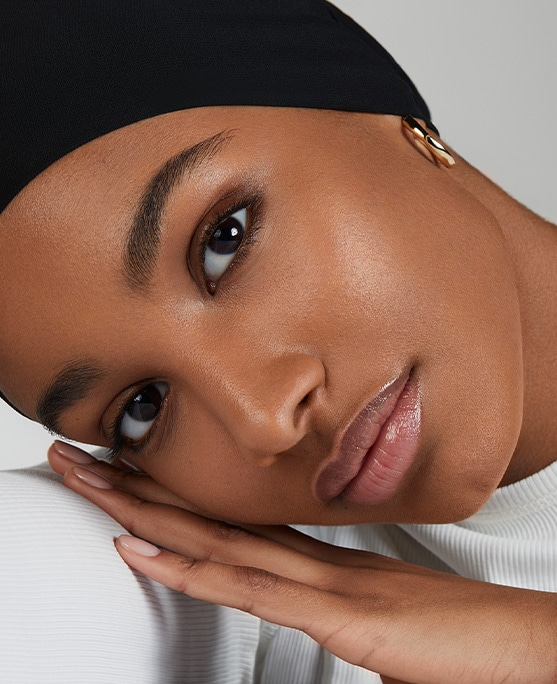 If we asked you to imagine a classic smokey eye, we'd bet you'd think of intense, inky-black lids that work for evening (and evening alone). The truth is, a smokey eye doesn't have to be melodramatic – you can achieve a soft-focus, contemporary look that's just as perfect for the office as it is for after-work drinks. The secret? Soft, buttery shadows in unexpected colours.
Grey Haze
The little sister to black, grey is flattering, wearable and just bold enough to make an impact.
For this sensual and moody eye, we've used Pure Color Luxe Eyeshadow Quad in Grey Haze. A mix of shimmer and matte, the brownish-grey tones keep the look soft and warm – no easy feat. To recreate it, apply shade #3 all over the lid, then buff #2 into the crease using a blending brush. Next, define the lower lash line with #4 and add a little light to the inner corners with #1. Finally, create a subtle wing with Double Wear 24H Waterproof Gel Eye Pencil in Onyx, then amp up the intensity by lining your waterline.
Feeling a little bolder? Get a perfectly imperfect, editorial finish by scribbling Double Wear liner all over your lids to create an inky base. Blend out, then press your thumb into #3 and glide it across your lid from the inner corner to the tail of your brow – keep the motion quick and don't overthink it (you can always repeat the process). Buff any uneven edges with a fluffy brush, then add depth to the outer corners with #4.
Aubergine Dream
Subvert the classic smokey eye by opting for rose golds, plums and pinks, like the ones in our Luxe Eyeshadow Quad in Aubergine Dream. Surprisingly versatile, it's perfect for spring and summer evenings where a heavy eye feels too much.
Start by creating a neutral base with #3, then gently buff #2 into the outer corners, sweeping up to follow the shape of your crease. Using a blending brush, layer #4 on top, concentrating on the centre of your lid. Add a little extra smoke to your upper lash line with Double Wear eye pencil in Aubergine or Espresso – keep the look a little messy to nail that undone feel.
Our tip? Wet your brush before dipping into #4 – this saturates the pigment, leaving you with a shimmering, foil-like sheen. Pat it on to keep the shadow in place and build up a gorgeous metallic intensity.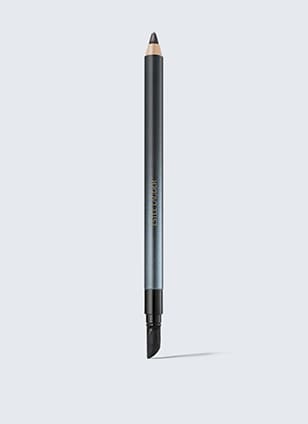 Long-lasting, high-impact colour that won't budge.