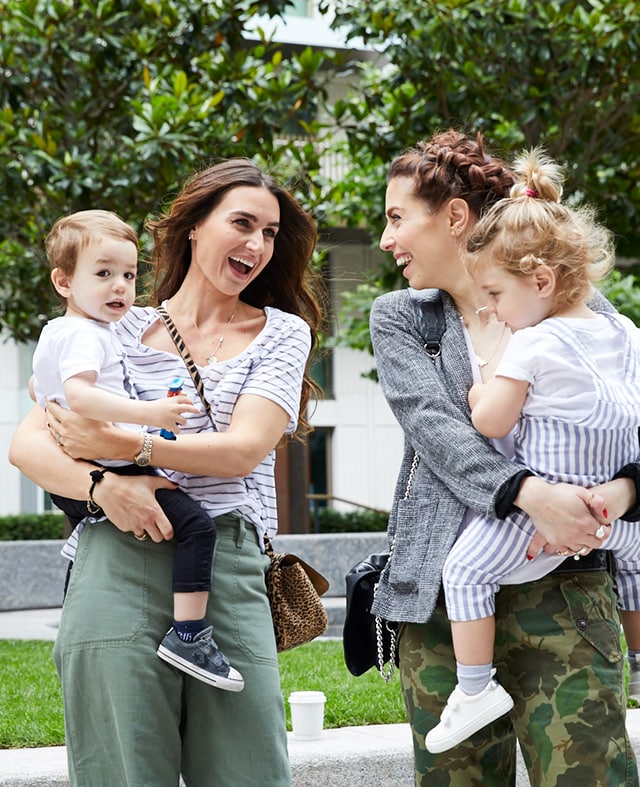 A familiar scene on social media: A chance direct message leads to a successful in-person connection. And in the case of beauty editor Sam Silver and fashion stylist Gemma Rose Breger, a beautiful business idea was born. "We had our babies two months apart, so we were at the same stage", explains Sam. "I suppose you could say we became Instagram friends, liking and commenting on each other's posts. One night Gemma DM'd me on Twitter, saying, 'Hi, this is really random, and I know we have never met, but I want to do something [in] fashion and beauty for mums. I think you do too. Do you want to meet up and chat?'".
The response from Sam was a swift yes, and the rest, as they say, is history. The meet-up resulted in This Is Mothership, an online hangout for mums who don't want to renounce being cool and in-the-know, just for having entered motherhood. Having both felt ignored from other platforms while on maternity leave, they set out to create a destination that gives fashion advice (the chicest slide shoes you can slip on whilst still holding your baby) and beauty hacks (how to cover your new mum under-eye bags), while speaking to their audience in a meaningful way. "We know there are other mum blogs out there—and they are great—but we felt like there was a point of difference in that we have expertise and knowledge behind us. We have been doing our respective jobs for over 10 years", says Gemma.
Adding a bit of colour to the face, whether blush or bronzer, helps you look like you have had sleep—even when you haven't.
The beauty, of course, is what sparked our interest. Look at their Instagram feed and you will find 1-minute Time Lapse videos of the two doing their makeup in under 5 minutes. These have become somewhat of a This Is Mothership signature, so we made sure to press them for their top mum beauty musts, for which ease and speed are key. Read on and learn!
GEMMA: "Lipstick! If I don't have time to put any makeup on, I will always put on red lipstick to look more pulled together."
SAM: "Bronzer, to make me look awake. If I don't have it on, I look flat, pale and grey! Adding a bit of colour to the face, whether blush or bronzer, helps you look like you have had sleep—even when you haven't."
GEMMA: : "Sheet masks! I had never done a face mask until about a year ago when I met Sam, but now I am obsessed. For a mom it's one of the best hacks— you put it on, you can empty the dishwasher, sterilise the bottles, do whatever you need to do, and the mask does its work."
SAM: "Nude liner in the waterline, or navy mascara are perfect if you've got red, tired eyes and want to detract from the redness."
GEMMA: "I am not a huge fan of foundation, as I don't like feeling cake-y, but something like Double Wear Nude Water Fresh Makeup is ideal, because it's so light and you can put it on with your fingers in 30 seconds."
SAM: "I like more coverage, so I prefer Double Wear Light. I like a glowy finish, so I add in a drop of the The Illuminator Radiant Perfecting Primer for a quick hit of radiance."
So, what's next? "We would like to bring out a book or have some sort of segment on TV", says Sam. "Being a mum gives you masses of confidence that you didn't know you had—you can say 'hell yeah I can do it'", adds Gemma. If one thing's for sure, it's that we will be seeing more of these hot mamas. They have their fingers on the pulse.
Lightweight. SPF 30/ Anti-Pollution. Up to 24-hour wear. Light-to-Medium Coverage.
LONG-WEAR. LIGHTWEIGHT. SHEER TO MEDIUM COVERAGE.