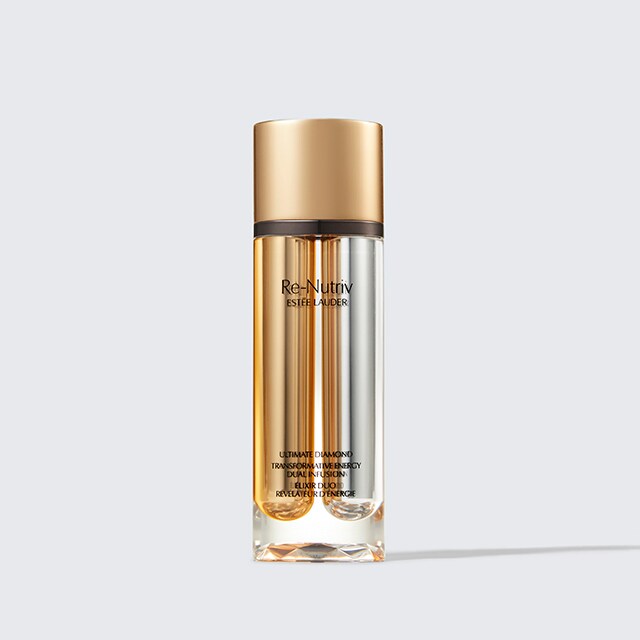 Re-Nutriv
Two exquisite serums fuse together for one extraordinary transformation.
The Dual Infusion delivers comprehensive anti-aging benefits for your skin's appearance, combining a 2X concentration of Black Diamond Truffle Extract with our most advanced youth-sustaining technology.
Each serum is sealed apart to preserve intense potency:
• In the goldenvial, a renewing elixir to help skin feel firmer.
• In the platinum vial, a retexturizing radiance elixir with potent refinishersto bring smoother skinto the surface.
In a moment of pure power, the two serums are blended into a super-infusion that energizes skin's appearance.The lightweight, hydrating texture of the Dual Infusion is designed to penetrate deep within skin's surface. There, it starts working immediately to reveal skin that is remarkably radiant, smoother, silkier at every touch.
Skin feels firmer. The effect on skin's appearance is transformative: Looks more radiant, more even-toned, less lined. Infinitely beautiful.
EXCLUSIVE BLACK DIAMOND TRUFFLE EXTRACT
From one of the Earth's rarest treasures, Re-Nutriv has created the Black Diamond Truffle Extract—nearly 10,000 hours in the making. Precious truffles from the highest,"Extra Class" grade are harvested exclusively for Re-Nutriv in the southwest of France, and are transformed into our potent extract to help stimulate skin's look ofvitality.
Re-Nutriv. Live a life of extraordinary beauty.