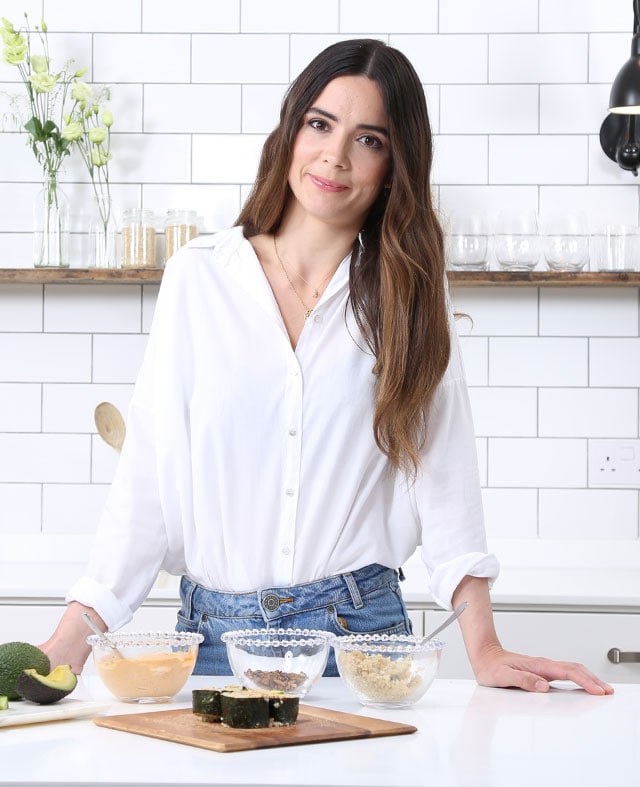 Speaking to Detox Kitchen founder, Lily Simpson, makes for pretty empowering conversation. She was well on her way to creating a food empire before she hit 30—and now there's just no stopping her. Talking about her first foray into food, Detox Kitchen started out as a food delivery service in 2012: "With a background in catering, I set up a website delivering breakfast, lunch and dinner to people's doors. I cooked the food, packaged it and delivered it. In the moment it was stressful and tiring, but looking back on the nine months of non-stop work, it was all worth it". She has barely stopped since. Branching out into delis, she initially opened a salad bar of her fresh, wholesome goods on the 5th Floor Food Hall of the exclusive Harvey Nichols in London's Knightsbridge. "People were walking from really far to get there. It showed there was nothing like it at that point", Lily notes. So when she happened upon a vacant site in London's Soho, Detox Kitchen standalone delis were born. She now has three locations under her belt, plus a best-selling cookbook. "When you're an entrepreneur you get bored easily, so I have to come up with new ideas all the time". This is a girl who has an appetite both for business and delicious food.
People now understand how food affects how you feel, especially in the workplace. You're so much more switched on if you have a good lunch.
Walk past any of her delis between 12-2pm and you're likely to see a queue out the door. She's hit the food nail on the head, creating hip and healthy London eateries, where people can eat fresh and eat well at any time of day. "People now understand how food affects how you feel, especially in the workplace", explains Lily. "You're so much more switched on if you have a good lunch. With the delis, I want people to be able to walk in and not have to think about the calories or macro content of the food, I want them to know that we have covered off the nutrition side to ensure that every dish is packed full of nutrients as well as flavour."
Spotting superfood trends with substance is all part of the day job for Lily. "I am obsessed with ingredients!" she raves. "I think the whole 'Vitamin-Sea' moment on Instagram is translating into food. Marine-based plants and nutrients are ingredients that we have been inspired by for a while, so I loved creating these two new recipes [for Estée Lauder]. We already use spirulina [a derivative of seaweed] in a condensed powdered form in the delis, because it's so rich in anti-oxidants. Anti-oxidants exist in lots of things but you have to consume quite a lot to get the benefits. But algae is different, it's a more concentrated form of nutrients, so you get the benefits quicker." Here, Lily details her two exclusive Nutritious Micro-Algae recipes. The best news is that they will be available in her delis, but are also just as easy to recreate at home. Let's break it down: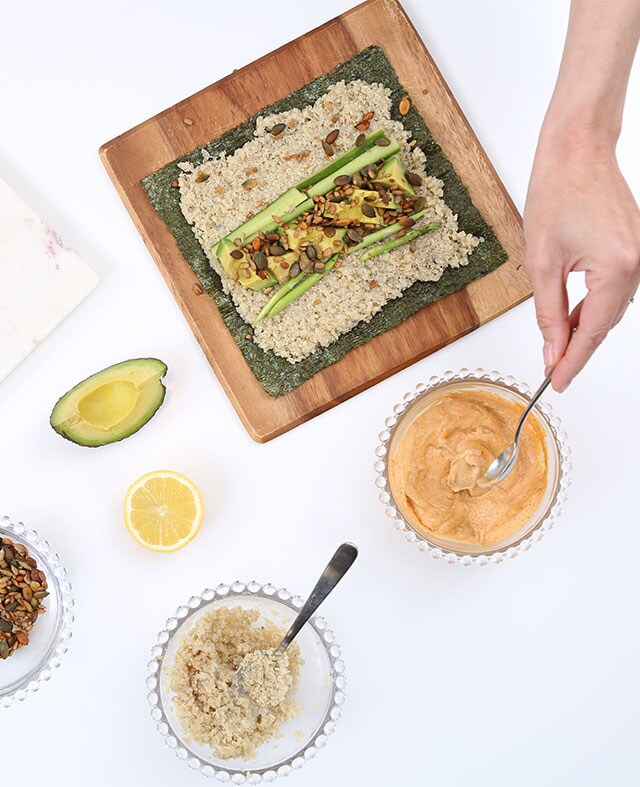 NORI ROLL
Key superfoods:
Cucumber – super hydrating
Asparagus – high in anti-oxidants
Nori Roll – packed full of omega-3
Why Lily loves it:
"This protein-packed Nori Roll is the perfect gluten and dairy alternative for lunch, filled with skin-loving ingredients that not only taste amazing but combined, have amazing skin and health properties."
How to make them:
Step 1: Cook 1 cup of quinoa or brown rice the night before, slightly overcooking it so that it becomes sticky. Leave in the fridge overnight.
Step 2. Roll out your seaweed nori sheet, and pat your cooked, chilled quinoa in the centre, leaving a border of wrap around the edge.
Step 3. Cut a cucumber into lengths and remove the seeds. Arrange the spears in the middle, along with some ripe avocado and sticks of raw organic asparagus sliced lengthways.
Step 4. Sprinkle with a little lemon juice and toasted sunflower seeds. Dollop on your sauce of choice; finish with a little pepper.
Step 5. Start rolling your seaweed wrap from one edge to the other. Pop in the fridge to chill for 30 minutes before getting a very sharp knife to cut your rolls. Finish with an extra drizzle of seeds and some more satay to taste.
LILY'S ALGAE BOOSTER
Key superfoods:
Spirulina - micro-algae loaded with protein and vitamins, known for its detoxification properties
Echinacea – anti-inflammatory
Why Lily loves it:
"Enjoy the many benefits of the sea's super plant, algae, with this power-packed booster. This dark green liquid is full of vitamins and anti-oxidants, and is amazing at keeping skin glowing and healthy-looking."
Step 1. In a juicer, blend 1 apple, a handful of spinach, a splash of coconut water, 4 teaspoons of spirulina powder, and 1 teaspoon of Echinacea powder.
Step 2. Chill for 30 mins, then take a shot!